Meet Our Donors
We thank all our planned-gift donors for their generous support. Here are some of their stories.
Leon and Suzanne Langford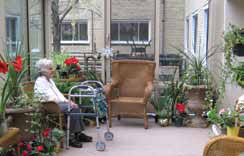 Baptist Homes Foundation received notice that it is the beneficiary of a portion of the Estate of Suzanne H. Langford, a former board member, Baptist Homes Auxiliary member, and resident at Baptist Homes from 2004 to 2008, who passed away in August, 2010. Her husband Leon was also a board member from 1970 to 1999. We will be forever grateful to the Langfords for their legacy of Christian service and their generosity to Baptist Homes Society.
Foundation Generosity
We are also grateful to have received a grant from the George H., Lillian S., and Mary S. Campbell Foundation for the refurbishing of Baptist Homes' secured Memory Support Unit. We continue to reap the benefits of the BK Simon Family Charitable Foundation. The organization provides ongoing support for Baptist Homes Activity programming, and the grant it awarded four years ago for construction of the sun room continues to be a blessing. It is a wonderful, calming space that gives residents the chance to get a little sunshine all year long.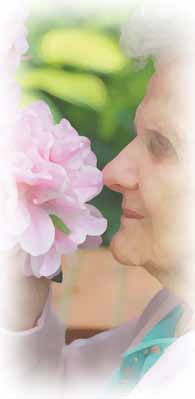 Everyone knew "Harry"
Everyone at Baptist Homes knew "Harry." Harry stood in his doorway every day and chatted with anyone who came up or down the hallway. His only relative, his nephew, came to see him periodically, but Baptist Homes was Harry's home. Harry's movements were a little slow, but deliberate. He was sometimes a little confused, but always pleasant. For every meal he dressed as if going out to a restaurant. Though staff assured him he was not going outside, Harry insisted on wearing his coat and hat.
Harry was very content at Baptist Homes. He knew the staff, and enjoyed taking part in many of the activities offered. At meal times, Harry would wait by his door for his next door neighbor, John, and together, they would head for the dining room. The people of Baptist Homes-both staff and residents-were Harry's family.
One day, Cathy Land, the Director of Personal Care at Baptist Homes at the time, got a phone call from Harry's nephew alerting her that Harry was running out of funds. He was worried Harry might have to move, and concerned about the impact it would have.
Fortunately, because of the Samaritan Fund for Resident Assistance, Cathy was able to reassure Harry's nephew that his uncle would not have to move. The Samaritan Fund for Resident Assistance would cover Harry's costs for the remainder of his life. The Samaritan Fund was created to support residents like Harry. Responsible growth and stewardship of that fund is the primary focus of the Baptist Homes Foundation. Donations from residents, their family members and friends, from churches and philanthropic organizations support the fund. You can help, too. For example, you can make a gift using the envelope included with this newsletter, designate Baptist Homes through your United Way or Federal Campaign contribution, transfer stock, or make the Foundation a beneficiary in your will or life insurance policy.
As Cathy Land pointed out, "Thanks to the Samaritan Fund, Harry( and hundreds of residents through the years) continued to live at Baptist Homes, content in familiar surroundings with people who cared about him, for the rest of his life.